Welcome
We are pleased to report that the 2018 superyacht regattas were very successful. Winter, spring and summer events saw exciting racing and in most instances close competition.
Fortunately, the 2018 hurricane season spared the Caribbean and so Antigua and St Barths plans are shaping up nicely. We continue our collaboration with the ORC and maintain committed to continuous refinement of the transparent ORCsy rule. The 'Corinthian Spirit' racing initiative really took hold this past year with 6 yachts participating in the Bucket, 8 of 13 at the Perini Navi Cup and a class debut at the Superyacht Cup Palma. We will continue promoting and refining this initiative as part of the commitment to our fleet building goals.
Two editions of the 'SYRA News', were emailed to members and the winter edition will be out in February. Issue two is posted here. We welcome your feedback as we produce what is intended to be an informative and interesting periodical for all those involved in superyacht racing.
The 2019 Annual General Meeting will be held in St Barths just prior to the Bucket regatta. Previous meeting minutes, agenda and exhibits are on the Member Meetings page of the website. The issues outlined in the AGM agenda and supporting material in the various exhibits, provide a meaningful summary of the topics and discussion items for the SYRA in the near term.
The core mission, first crafted in May of 2011, remains valid, and it has been updated to reflect expanded goals which include fleet building to help ensure robust competition. The association will continue to focus on these important goals. Involving more SYRA members in ongoing committees and working groups will be one of the keys to success in the coming months.
We look forward to more exciting superyacht racing in 2019 and beyond.
---
News
Fall Newsletter
The second issue of the SYRA newsletter has been emailed to members and is posted here. We welcome your feedback as we continue to produce what is designed to be an informative and interesting periodical for those who are involved in superyacht racing. The winter edition will be published in February 2019.
2018 Annual Meeting
The 2018 SYRA Annual General Meeting was held in St Barths on Wednesday, 14 March 2018.
Location: Salle de Théâtre, Gustavia St Barths
Time: 1700 – 1815 (social hour following)
View the 2018 annual meeting minutes and past Annual Meeting documents here.
Corinthian Spirit Racing Update
A 2017 SYRA initiative, Corinthian Spirit racing is showing some real traction just one year later. With fleet building a primary goal, this class is designed to attract yacht owners new to superyacht racing as well as with those who participated in the past, but are not currently competing. Informal polling has revealed that the reasons for dissatisfaction from those who left racing was quite varied, and included the former handicapping rule, expenses related to yacht optimization, the need to augment permanent crew, and perceptions regarding safe racing. Read more here.
Measuring Your Yacht
The list of ORC measured superyachts tops 50. A welcome change in superyacht racing in recent years has been a growing sense of confidence from owners and sailors that the superyacht rating rule of choice (ORCsy) has enhanced fair racing. A fully transparent VPP has played a meaningful role in the popularity of the rule, which debuted 4 short years ago. But so too has the fact that measured data is steadily replacing declared data fleet wide. As of December 2017, 50 superyachts were fully measured with another 18 partially measured or scheduled early in 2018. Read more here.
2018 Superyacht Winter Circuit read more here.
ORCsy 2017 End Season Report
After 9 successful events in 2017 (SuperYacht Challenge Antigua, Swan Cup and Loro Piana Caribbean Regatta in Virgin Gorda, St Barth Bucket Regatta in St. Barth, Loro Piana SY Regatta in Porto Cervo, SY America's Cup in Bermuda, SY Cup in Palma, Candy Store Cup in Newport and Maxi Yacht Rolex Cup in Porto Cervo) the ORC would like to update you on the situation of our handicap system. Read more here.
Chelsea Ships Bell Clock Awarded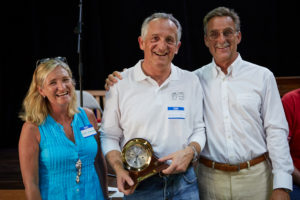 At the Annual General Meeting in St Barths, a beautiful Chelsea Ships Bell Clock was presented to Alessandro Nazareth, representing the ORC Technical Team
An ambitious initiative to develop a rating system for superyachts began in 2014. In eight months, the team developed the new system, designed to meet the goals of transparency and fair sailing. Due to their extraordinary efforts, the new rule made a successful debut at the 2015 Loro Piana Caribbean Superyacht Regatta and at the St Barths Bucket after that. They continue to apply their talents and diligent efforts to ongoing improvement efforts and refinement of the ORCsy Rule.
The Inscription Reads:
SuperYacht Racing Association
Presented with sincere thanks to
The ORC Technical Team
For their contributions to Fair Sailing
New Corinthian Spirit Class
The SuperYacht Racing Association (SYRA) membership, in conjunction with the Offshore Racing Congress (ORC) has developed a new initiative: the Corinthian Spirit Class.
The superyacht racing circuit is thriving with new yacht owners coming on the scene every year. Yet stakeholders agree that there is a need to broaden the appeal of superyacht regattas. Recognizing this need, a new class has been developed with the primary goal of attracting more yacht owners and growing participation. The Corinthian Spirit Class offers an alternative to what is viewed by some as increasingly competitive and resource intensive racing.
Read the full release here: corinthian-spirit-release-november-18-2016
In Remembrance – Ed Dubois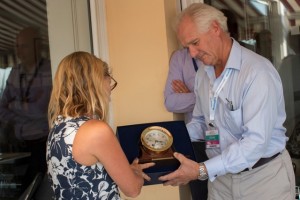 Ed was an extraordinary talent and friend. His legacy is a remarkable one and the SYRA is honored to be a small part of it. It was his drive and vision that saw the need for and gave life to the SuperYacht Racing Association. All those who race superyachts or are part of this industry are indebted to him for his many contributions and creative ideas.
It is with great sadness that we say good-bye to a very special man. We will continue to strive to meet his goals of safe and fair racing with the zeal and good humor that were uniquely his.
From the Dubois team official press statement: "Ed Dubois was a huge talent and his legacy will continue as one of the world's great yacht designers. Known not only for his love of all things boat-related, but also music, art, travel and most of all, his family and friends. Ed leaves his darling wife Honor and four wonderful children, to whom he was completely devoted."
A complete and touching obituary is posted here: telegraph.co.uk
Jonathan Kline recognized at 2016 Annual Meeting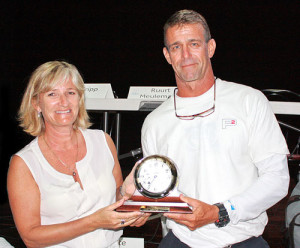 At the SuperYacht Racing Association's Annual General Meeting, held on 16 March 2016 at Salle de Théâtre, Gustavia St Barths, movers and shakers in the superyacht world participated in discussions and updates.
SYRA Executive Committee Co-Chair Kate Branagh awarded SYRA's annual recognition trophy to Captain Jonathan Kline (a member of the SYRA Executive Committee and the Communications Officer on P2). He was presented with a beautiful, handcrafted Ship's Bell Clock from Chelsea Clock for his many contributions to the advancement of safe racing. "Because of him, we are in a far better place than we were 18 months ago," said Executive Director Peter Craig.