Committee Members | Reports and Documents | Activities and Status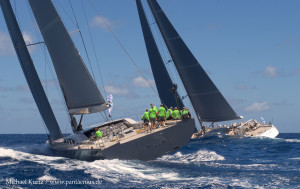 The mission of the Uniform Racing Rules Committee is to evaluate and recommend changes to the RRS and have them reflected in permanent changes to the RRS, which may come in the form of a RRS Appendix for Superyacht Racing.
Committee Members
Membership as of March 2017
Chair: Edoardo Recchi
Cam Appleton: Professional Sailor
Tony Brooks: Boat Captain
Jim Capron: International Judge
Michael Clough: International Judge
Wolf Dietz: Industry Professional
Robbie Doyle: Professional Sailor
(TBD): Former IJ / Superyacht Afterguard
Andy Green: Professional Sailor
Jon Jeffreys: Boat Captain
Gordon Stredwick: International Judge
Hank Stuart: National Judge / Superyacht Afterguard
Peter Craig: PRO / SYRA Executive
Big Boats, Big Tactics
With high tonnage, there are long-game tactics to consider, but in high-stakes, high-ego superyacht racing, it's never as simple as it appears. Read more here.
By Tony Rey – December 30, 2016
SAILING WORLD
Reports and Documents
Additional information on the Rules of Superyacht Racing:
• Appendix SY
• Case Studies
• ISAF Approvals (2011/2012)
• Information on Rule Compliance and Enforcement
---
Rule 55 Update
Date:            22 September 2014
From:          The Superyacht Racing Association
To:                 All SYRA Members
Subject:       Rule 55 (Trash Disposal)
The purpose of this memorandum is to update those involved in superyacht racing with regard to the very latest information on the issue of banding spinnakers and other sails.  Superyacht event organizers were put in a difficult position when ISAF created and implemented RRS 55 (background information provided below).
Beginning with the Loro Piana Superyacht Regatta in Virgin Gorda (March 2015), superyachts should be prepared to race without 'banding' sails – with elastic, wool or any other material.  Sailmakers are aware of Rule 55 and have been working on alternatives to banding (socks, zippers, Velcro, etc.) for some time now.  The SYRA and event organizers are intent on "doing the right thing" for the environment and want to avoid a potential last minute directive that may leave competitors with no banding alternative.
By way of this communication, we are relaying the intent of the organizers of the YCCS regattas, Bucket Regattas and Superyacht Cup Palma to adhere to Rule 55 in their 2015 regattas. This provides an additional six months for sailmakers and racing programs to prepare for the two March events. For the Antigua Superyacht Cup Regatta, the time frame leading up to that event is significantly shorter and hence the organizer is considering alternatives for their 2015 event.
Feel free to contact us and/or any of the organizers directly with any questions or concerns you may have.
---
Among the changes to the 2013-2016 edition of the Racing Rules of Sailing (RRS) is the addition of a new Basic Principle, "Environmental Responsibility" which reads, "Participants are encouraged to minimize any adverse environmental impact of the sport of sailing."  This is supported by new RRS 55 (Trash Disposal), "A competitor shall not intentionally put trash in the water."
In August 2013 ISAF issued Q&A 2013-029 (revised 15 January 2014) which can be read in its entirety here: http://www.sailing.org/tools/documents/QA2013.029N003revisedJanuary152014-[16193].pdf 
The Q&A suggests the use of snuffers or socks in lieu of "elastic or wool" to stop spinnakers, however if an organizing authority of an event considers it advisable for "reasons of safety or proper seamanship, and provided that no national or local law or regulation is broken" they may change rule 55 by stating in their sailing instructions "RRS 55 is changed by adding the following sentence to the rule: 'However, discarding elastic or wool bands when setting a sail may not be considered a breach of rule 55.'
Given the lack of notice, it was not uncommon to see this rule change in event documents for regattas with large yachts, and it has generally gone without much notice over the past year. However, at a recent major event, which used the language from the Q&A, the organizer received a directive from the local environmental authority that it would need to change the event's documents and prohibit the use of banding or the organizer could be held responsible for violating local environmental laws.
Activities and Status
The latest version of Appendix SY is on the ISAF website.